Free Ticket Offers
Who ever thought that scoring tickets to LEGEND POKER SERIES could be this easy? All you need to make a deposit of as little as ₹3,000 and get a ticket to one of the tournaments. Yes, it's that easy.
It's your time to be throned as a LEGEND. What are you waiting for? Avail these free tickets now and get ready to be etched in history forever.
See you at the tables!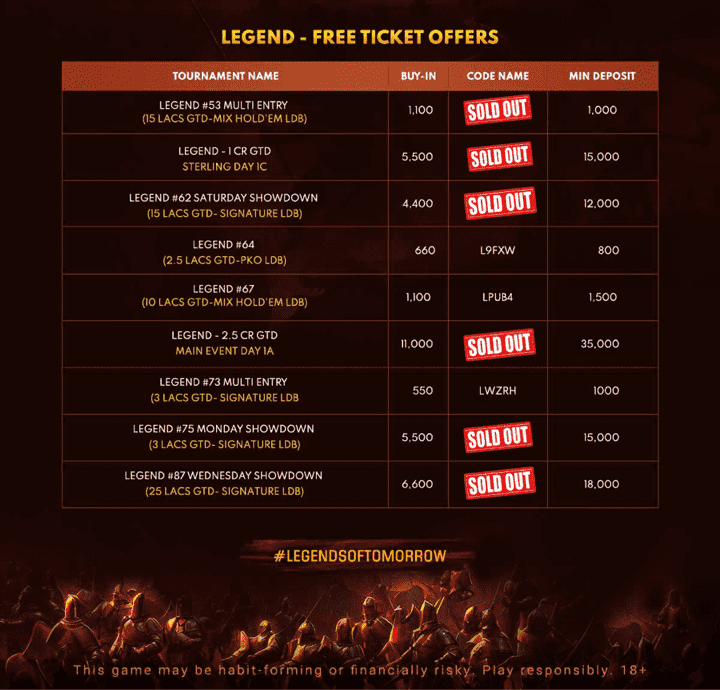 Terms & Conditions:
1) Maximum code usage allowed is only one per player.
2) To withdraw the deposited amount, the player will need to accumulate a 5% release points of the ticket value.
3) In case of any disputes, Spartan Poker's decision is final and binding.
4) People aged 18 years and above can take part in the promotion where it is legally permitted.
5) All contests and promotions run on www.spartanpoker.com are under the sole preview of Quadrific Media Pvt Ltd. None of its affiliates and partners are in any way responsible or liable for the same.
6) The Company reserves the right to extend, cancel, discontinue, prematurely withdraw, change, alter or modify any promotion/offer or any part thereof at its sole discretion at any time during its validity.
7) Participation in a promotion/tournament shall be treated as unconditional acceptance by the participant to all the applicable terms and conditions mentioned herein.